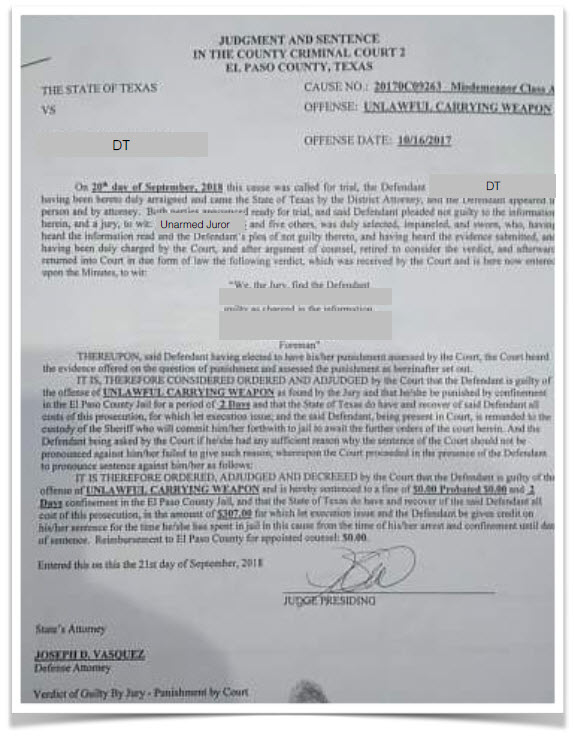 A jury in El Paso, Texas decided Friday that it is illegal for a member of the Bandidos Motorcycle Club to possess a weapon in the state. DT, a member of the BMC in El Paso, was arrested October 16th, 2017 on his way to work for Unlawful Carrying Of A Weapon. Although it was conceded by all sides that DT had no felony record and was not a convicted criminal, the prosecution argued, and the jury agreed, that merely being a member of the Bandidos was enough to consider an individual a gang member prohibited from exercising their 2nd Amendment rights.
DT's case is just one in a long list of similar incidents. The MPP believes that successful convictions such as DT's further embolden law enforcement across Texas and other states to continue their campaign to disarm the Bandidos and other motorcycle clubs and their members based solely on association.
DT's case represents only one case in a lower court. The legality of motorcycle club members in Texas possessing weapons will ultimately depend upon successful judicial opinions at the court of appeals level or higher, setting precedent against what the MPP believes is an unconstitutional application of Texas law.
The attempt to disarm individuals because they belong to an organization in which other members have committed crimes, regardless of personal guilt, is an extremely dangerous slippery slope that could ultimately impact many sectors of society far beyond motorcycle clubs.
DT's Story
DT was on his way to work last October when he was pulled over for a traffic infraction. When the El Paso officer asked whether he was carrying a weapon, he indicated he was legally transporting an unloaded firearm. DT does ranch work, and ranchers often carry firearms to defend against predators and snakes threatening livestock.
DT was informed that it was illegal for a member of the Bandidos to possess a weapon in the state of Texas because they were considered a criminal street gang. He was charged under Texas Penal Code Sec. 46.02, UNLAWFUL CARRYING WEAPONS. He paid a $1,500 bond and was released.
Until this incident, DT had no criminal record – other than a DUI a decade ago. He is a combat veteran, serving in the Army, 1st Calvary Division for 5&1/2 years, 2 of them in Iraq.
DT went to trial last Thursday, September 20th. The argument on both sides was fairly straightforward. He explained to the MPP, "The state is trying to just simply say me being a member of the Bandidos MC is enough to justify me being a gang member. My defense is saying they have to show me specifically [involved] in acts to prove me…a gang member."
The next day, the jury deliberated and agreed with the prosecution. In this jury's opinion, being a Bandido is enough to prohibit an individual from legally possessing a weapon in the state of Texas, even if the individual has no criminal record.
What Does DT's Case Mean For Everyone Else?
Independent of the personal impact on DT, his case has implications for others. His trial does not set precedent for others because it's a lower court decision. If the case is appealed, however, the outcome of that trial would set precedent for others in the El Paso court's jurisdiction.
But even if this trial doesn't set precedent, this conviction is likely to embolden law enforcement to further embrace this tactic in El Paso and across the state of Texas. As reported directly to the MPP from victims of blatant and obvious mass profiling, the same day the jury in El Paso handed down a guilty verdict, members of another 1% club having a gathering at the Stockyards in Fort Worth were warned that it was illegal for members of motorcycle clubs to possess weapons in Texas even if those members held valid CWP's.
Indeed, the Motorcycle Profiling Project has repeatedly reported on the rising trend in some states to revoke the Second Amendment rights of MC members, and how MC members are being arrested for unlawful carry without legitimate cause. The MPP has even issued a travel advisory warning all motorcycle club members of what the MPP believes is an unconstitutional application of Texas law.
Why The MPP Thinks Texas Statute is Unconstitutional "As Applied."
This statute as it is being applied violates fundamental 1st Amendment liberties and the doctrine of personal guilt. To permit the government to impose restrictions on any person "who wears the insignia of [a motorcycle club], without regard to or knowledge of that individual's specific intent to engage in the alleged violent activities committed by other members, is antithetical to the basic principles enshrined in the First Amendment and repugnant to the fundamental doctrine of personal guilt that is a hallmark of American jurisprudence." see Coles v. Carlini 162 F.Supp.3d 380 (2015)
But that is exactly what is happening in Texas. The idea that the government can impose a restriction such as prohibiting the right to posses a weapon in a shall issue state, based solely on association, is completely inconsistent with constitutional principles.
Properly applied, wouldn't the state have to show that an individual specifically participated in the criminal acts referenced? This interpretation of Texas Penal Code Sec. 46.02 would both preserve the 1st Amendment right to associate and the doctrine of personal guilt.
Why This Could Mean The End of Clubs As We Know Them?
If this trend continues in Texas, California, and New York, how long before it spreads to other states? If gang laws themselves are any indication, the tactic could spread coast- to-coast.
According to the National Motorcycle Profiling Survey 2017, 99%+ of MC members strongly support the 2nd Amendment and only 2% of the members of even 1% clubs have a felony record. How many individuals that currently have a legal right to posses weapons would knowingly sign away those rights to join a motorcycle club?
And the potential implications extend far beyond the MC community. <a class="colorbox" href="http://www.motorcycleprofilingproject.com/travel-advisory-texas/" …read more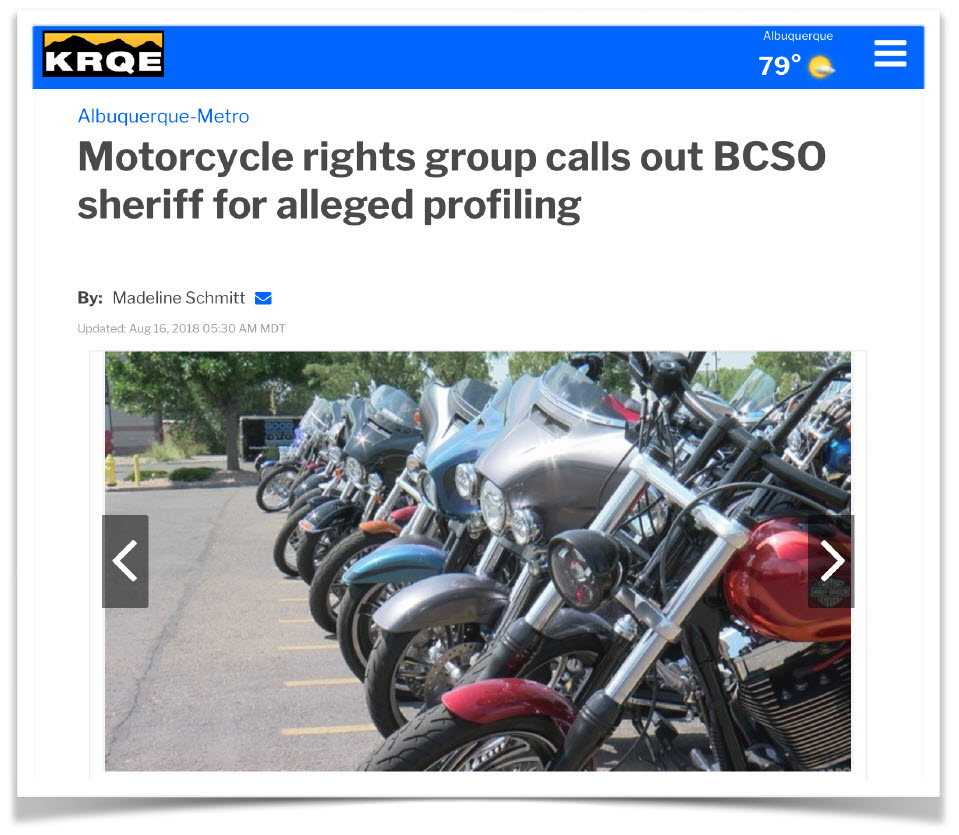 As reported by the MPP, the New Mexico Motorcyclists Rights Organization (NMMRO) sent a letter to the Bernalillo County Sheriff's Office (BCSO) on July 7th, requesting a meeting to discuss motorcycle profiling due to an increase in reported incidents. Despite the professionalism displayed by the NMMRO, these requests were ignored for over a month. But then these requests received media exposure, first through the MPP's grassroots networking and then mainstream coverage. The pressure resulting from this exposure caused the BCSO to agree to a meeting with the NMMRO which resulted in an agreement by the Sheriff to seriously address incidents of motorcycle profiling.
The NMMRO- An example of effectiveness.
Annette Torrez and Raymond Gallegos, chair and co-chair, along with the board of directors of the NMMRO, are examples of effective activists implementing proven methods for advancing motorcyclists rights. The NMMRO has taken the unique approach of attempting to dialogue with law enforcement related to the profiling phenomenon. And to get authorities to the table, the NMMRO is using a combination off grassroots and mainstream media pressure.
After drafting and sending the letter to the BCSO, Torrez contacted the MPP requesting coverage. On August 14th, 2018 the MPP published the NMMRO's story on motorcycleprofilingproject.com in an attempt to provide exposure. With over 20,0000 followers, the story spread quickly. Two days later powerful mainstream media outlet KRQE Channel 13 also reported on the story and even called the BCSO inquiring about why no meeting had been scheduled. The BCSO quickly agreed to a meeting on August 22nd, and even guaranteed the Sheriff's presence.
Sheriff Agrees to Seriously Address Profiling Concerns
On August 22nd, the NMMRO Board met with representatives of the BCSO, including Sheriff Gonzales. The results were positive. The Sheriff agreed to increased education and awareness of motorcycle profiling stops in addition to agreeing to seriously address future stops. As reported on the NMMRO's Facebook page:
"We are very pleased to let you know that we were finally able to meet with the Bernalillo County Sheriff, along with several members of his command staff. This meeting was very productive and we feel that our community concerns were heard and received well. We also received a personal commitment from Sheriff Gonzales, that any reports we bring to his office in regards to profiling and discrimination, will be seriously investigated and addressed. In meeting overtime, they shared a serious interest in supporting our efforts in addressing motorcycle safety awareness and rider education."
Torrez further explained to the MPP:
"The captain in charge of traffic came in late due to a swat situation. Now he was receptive to our concerns and said we was going to educate his officers on unconstitutional stops."
Media Exposure And The Fight Against Profiling
The combination of grassroots and mainstream exposure is a proven method for moving rights issues forward. Many times the biggest challenge is exposure. The MPP provides an outlet for grassroots exposure that has not previously existed for motorcyclists involved in the rights movement. And as the MPP grows, so does the ability to penetrate mainstream media sources.
Torrez comments on the MPP's Facebook Page:
The whole purpose of a free press is to provide a source of accountability through public exposure and public pressure. Grassroots media has gained power through new technology and cannot be controlled like mainstream media sources can. And getting grassroots messaging reported in the mainstream provides a movement's message maximum exposure without the traditional risk of not being able to control the language of the debate.