William Dulaney, a retired professor at the U.S. Air Force Air Command & Staff College, has conducted extensive research on motorcycle club culture as an observer and a participant. In recent years, he has consulted on many cases in defense of members of motorcycle clubs ranging from illegal weapon charges related to get back whips, to the first Twin Peaks trial. His doctoral degree dissertation focused on the identity and culture of America's outlaw motorcycle community.
As experienced by Aristotle, Einstein, and countless doctoral dissertations [i], conclusions and perspectives often evolve based on many factors. These factors include time spent in the field of participant observation, more expansive data collection, and expansion of geographic regions analyzed in-depth. The study of motorcycle club culture is no different.
Although Dulaney observed at the time of his initial writings that they were limited by geographic region and time spent in the field of observation, as is common with early academic studies [ii] [iii], some of Dulaney's most recent observations based on years in the field were documented in a piece for CNN. [iv] He writes, "I've spent 15 years researching America's biker culture and I can say with some authority that the reality of everyday life in motorcycle clubs is neither dangerous nor exciting." So why might some people have a different view?
Media drives public perception
Dulaney explains, "Americans have a long established canon from which they "learn" about society from fictional dramas. And the more we watch shows like "Sons of Anarchy," the more a news story will seem to fit our mental construct of "how those people are." And Dulaney's research on media coverage of motorcycle clubs shows that when MCs are in the news it's almost always for something terrible, not the numerous law enforcement abuses or profiling of patch-holders or the mundane everyday experiences of motorcycle club members. He continues, "But here's the thing: As we watch more crime drama, we perceive that crime is more prevalent than it actually is."
The Blue Jay Syndrome
A criminal element exists in any large community. There are always "bad seeds." Dr. Dulaney would not disagree. But he would point to a phenomenon revealed by his recent studies that applies to motorcycle clubs termed The Blue Jay Syndrome. Like a blue jay robbing another's nest for resources, a tiny percentage of individuals are able to take advantage of the tight-knit structure of a motorcycle club for their own selfish or even criminal purposes, and then flee the nest when they've depleted and damaged the structure. [v] Although this is not representative of the vast majority of motorcycle club members across the wide-spectrum of clubs, these false perceptions of widespread criminality are largely drawn by media constructs, both entertainment and sensationalized news.
Findings related to profiling.
Motorcycle profiling, an issue that has gained momentum in recent years and is now a national discussion, has also emerged in Dulaney's recent observations. He argues, "In over a decade of sifting through discovery evidence and testifying in federal RICO and state gang-enhancement trials across the US a model of law enforcement behavior has emerged. The model is simple: specific federal agents use various federal, state, and local police "motorcycle gang" task forces to profile members and friends of motorcycle clubs. The profiling ranges from pre-textual traffic stops intended to document identities and update gang crime databases to the systematic deprivation of civil rights; with violations of the 1st, 4th, and 14th Amendments being most prevalent."
A shift to coexistence
Over the past 10 years, as awareness of motorcycle profiling has increased, combined with historical events like Waco, motorcycle club participation in the grassroots motorcycle rights movement has increased as well. Across America, this participation has resulted in more communication and cooperation among motorcycle clubs as it relates to common ground issues like profiling.
In terms of issues related to rivalries among motorcycle clubs, Dulaney's more recent observations reveal more of a coexistence. At a funeral for a patch-holder killed in Waco, Dulaney witnessed members of "more than 50 other motorcycle clubs come together in peace to mourn the passing of a man who touched the lives of so many in his community. This convergence of contrasting MC's was no media stunt. There were no media in the funeral that day (although there was one white, unmarked van, out of which came uniformed men clad in body armor and armed with assault rifles)."
"As one who earns a living studying and teaching about threats to national security, it concerns me greatly to think that precious time, money, and manpower are wasted on targeting the wrong people. We have very real dangers to our society, our American way of life, but MC's are unequivocally not among those dangers. In my experience, patch-holders represent the very people who protect us from those threats."
What drives people to MC's?
So what really drives many people to motorcycle clubs? The answer must include the obvious love of riding motorcycles and a sense of brotherhood. But also, Dulaney argues, as a largely patriotic group, "MCs support a wide variety of local, national, and international charities that seek to end cancers, poverty, hunger and children's diseases, but especially supported are disabled veterans organizations."
But the connection to the charitable mission appears to run much deeper. Dulaney writes, "Charity is to members of motorcycle clubs as gasoline and oil are to their machines. For some, it's a major reason why they join and stay in MCs."
Perception is not reality
The mainstream news and entertainment media have created a perception of motorcycle clubs based on the highly sensationalized actions of the few.
As suggested by Dulaney's most recent observations and study, this is now 2019, and the realities of society are different than they were even 15 years ago, and that includes the data. The conclusions based on …read more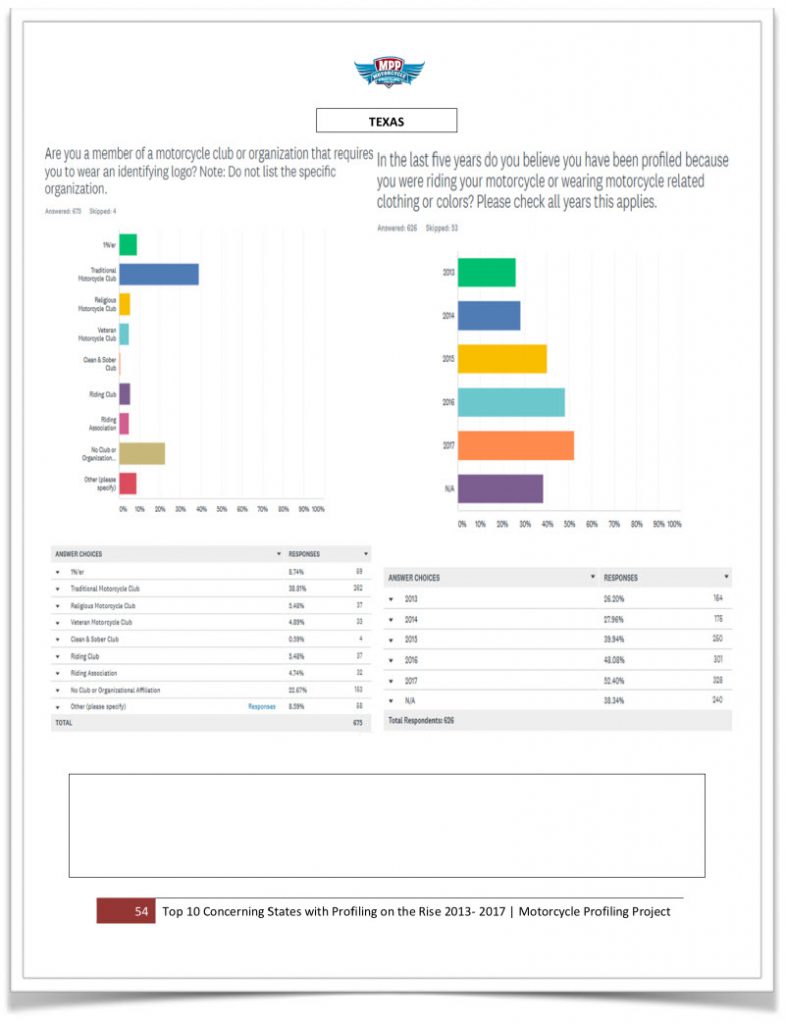 Motorcycle profiling is an epidemic in Texas demanding judicial and legislative relief. It appears that the level of unconstitutional absurdity has reached new heights. As captured on video, members of a motorcycle club were cited by officers in San Antonio for Disturbing the Peace for displaying their motorcycle club insignia in public, which the officers considered a public display of gang colors. The officer's actions are outrageous and blatantly unconstitutional under both the 1st and 4th Amendments to the US Constitution. All officers in San Antonio, and throughout Texas, should immediately cease and desist from any further illegal seizures and citations based on the fact that a person is riding a motorcycle or wearing motorcycle club-related insignia.
Motorcycle profiling an epidemic in Texas
This incident in San Antonio is only one of the most recent incidents documented and reported across the state. According to the 2018 National Motorcycle Profiling Survey (NMPS) Executive Summary, Texas is among the worst states for reported incidents of profiling in America. The 2018 NMPS confirms the wide-held belief among motorcyclists in Texas that incidents of profiling have dramatically proliferated since the Twin Peaks tragedy that occurred on May 17, 2015. The 2018 NMPS shows a 100% increase in the percentage of survey participants reporting incidents of profiling in Texas since 2013.
Impact on civil liberties
Being stopped and cited for wearing motorcycle club colors under the guise of disturbing the
peace would be laughable if it weren't actually happening. Wearing motorcycle club colors in
public has been recognized by federal courts as expressive conduct protected by the 1st
Amendment. Moreover, wearing motorcycle club colors is not reasonable suspicion of a traffic
infraction or criminal activity, the minimal threshold for a seizure under the 4th Amendment.
Independent of this obvious misapplication of statute, profiling incidents take many forms and
impact a wide array of civil liberties. Motorcycle club members with a legal License to Carry
have been arrested for possession of legal firearms simply for being a member of a motorcycle
club. Club members have been stopped and threatened with jail if they didn't submit to having
every tattoo on their bodies photographed against their consent. Unfortunately, the fact that
these attacks on civil liberties impact well established rights and fly in the face of well
established judicial precedent has not been a deterrent to law enforcement.
Video is critical to fighting back
The video captured in San Antonio could be a critical piece of evidence demonstrating the
essential facts required to successfully defend against the infraction and maybe file for an
injunction against the practice of stopping and/or citing a person for wearing motorcycle club
colors. The facts are all contained in a short video. The individuals in the video are being cited
for Disturbing the Peace because wearing motorcycle club colors is displaying gang colors in
public. This video makes these facts irrefutable.
Independent of judicial applications, this video and incident also help establish a tangible
pattern of profiling necessary for legislative relief. Seeing is believing and nothing has worked
better than video in the MPP's opinion.
On June 3, 2019 Louisiana became the third state in America to unanimously pass legislation addressing the issue of motorcycle profiling when the Louisiana House voted 103-0 in favor of HB 141, and concurred with the Louisiana Senate's 38-0 approval with amendments the day before. Following similar laws in Washington State (2011) and Maryland (2016), HB 141 requires motorcyclist profiling training to be integrated into current training on biased policing. Notably, Louisiana is the first state to pass a law following the US Senate's unanimous approval on December 11, 2018 of a resolution directing every state to follow Washington and Maryland's lead.
Louisiana's victory, a result of Representative Howard sponsoring ABATE of Louisiana Inc.'s grassroots driven efforts- with the support of the Louisiana Confederation of Clubs, the National Council of Clubs and the MPP- are important for a number of reasons. HB 141 will reduce incidents of profiling in the short and long-term. Also, HB 141 demonstrates that motorcycle profiling is a non-partisan issue impacting motorcyclists in blue and red states alike, regardless of party affiliation. This, in turn, will likely make things a bit easier for the next state, and even the federal government, to address the issue.
Reducing incidents of profiling.
Mandatory motorcycle profiling training will bring a greater awareness of the issue to law enforcement in Louisiana. This will, in turn, reduce incidents of motorcycle profiling. But even before the first officer is trained, the increase in awareness of the issue as a result of legislative action will likely have a more short-term impact.
Using Washington State as the example with the most data, based on the
reduction in reports to the WA State Council of Clubs, integrating
motorcycle profiling training into current training on profiling noticeably reduced incidents of profiling in the state. The impact was immediate and, the MPP believes, most likely the result of an immediate increase in awareness.
Although some profiling incidents do still occur, reported incidents are
nowhere near pre-2011 levels. Importantly, when challenged in court, most
incidents that do occur result in dismissals. But the key to maintaining a
reduction has been continued diligence from the same community that pushed for a new law in the first place.
Unanimous Consent
Notably, laws addressing motorcycle profiling have been the result of
legislation passed without a single no vote, in any committee or on the floor, in Washington State and Maryland. Louisiana proudly continues this trend with HB 141, also passing all legislative stages unanimously.
Laws addressing motorcycle profiling are nonpartisan, speaking to a broad base of legislators on both sides of the aisle. Louisiana is far more
conservative than Washington State or Maryland. HB 141 demonstrates that discriminatory policing is equally condemnable by the left and the right, particularly the targeting of an entire community defined by the 1st Amendment. Motorcycle profiling is an issue providing the opportunity for collaboration and cooperation unbound by party affiliation that every legislator should openly support.
A Word of Caution
Passing a law addressing motorcycle profiling is a noticeable
accomplishment that should not be undersold. ABATE of Louisiana has driven a grassroots effort into the end zone. Although nowhere near pre-2011 levels- the year the law passed- motorcycle profiling incidents still do occur in Washington State. Maintaining a grassroots infrastructure in the form of the Washington State Council of Clubs and Washington State ABATE provides a place for victims of profiling to report their incidents and receive advice and in some cases legal assistance.
Many dismissals have been granted since 2011. Many of these individuals
received advice or assistance from the COC. The MPP believes maintaining a grassroots infrastructure in Louisiana will be directly connected to the new law's ultimate effectiveness.
There are considerations beyond dismissals as well. For example,
motorcycle profiling sensitivity training will be official law enforcement policy in Louisiana providing a tangible basis for official complaints filed against offending officers. An efficient organizational response to incidents that do occur will help insure the new law addressing motorcycle profiling is as effective as possible.
May the dominoes fall
Every state that passes laws addressing motorcycle profiling makes the
next state considering the issue more likely to act. This is particularly true when, in the legislative efforts that have seen success, there has not been a single vote of opposition by an elected official at the state or federal level.
Every successful effort addressing motorcycle profiling has also been
centered around a grassroots movement consisting of collaboration between independent motorcyclists and the motorcycle club community. Indeed,
Louisiana is the most recent living example of why the MPP was founded and
proof of the results that can be obtained, without opposition, by
implementing the best practices and principles developed at the state and national level.
Congratulations Louisiana.
Entire Mongol Nation Gets 500k Fine, 5 Years Federal Probation.
The National Council of Clubs (NCOC), representing the interests of
motorcycle clubs nationwide, is extremely alarmed that the recent sentence
imposed in US v. Mongol Nation case will be seen as a green-light for the federal government to target innocent members of other motorcycle clubs that have had members found guilty under RICO.
On May 17, 2019, ironically the 4th anniversary of the Waco biker tragedy, Judge David Carter, presiding in the Federal District Court of Central California, sentenced the Mongol Nation following a trial in which a jury found the club as an entity guilty of RICO Racketeering and Conspiracy. On a positive note, Judge Carter again denied all requests related to forfeiting the club's patch and collective marks. On a not-so- positive note, Judge Carter imposed a $500,000 sentencing fine to be paid in monthly installments of $8,475 until paid in full. Finally, and most concerning to the NCOC, Judge Carter placed the entire Mongol Nation on Federal probation for a term of 5 years. Essentially, Judge Carter has opened the door to a legal campaign of profiling and harassment targeting
the entire Mongols Motorcycle Club.
Smoke and mirrors
While the majority of the focus has understandably been on issues related to saving the patch and the government's attempts to seize the Mongols collective membership marks, there has been little discussion related to the Mongols Nation being indicted as an entity under RICO for the first time in history.
The government's goal for more than a decade has been seizure of the club's patch as a form of sentence under RICO. Although rebuked at every
juncture, the strategy of indicting the Mongol Nation as an entity was yet another attempt to take the patch. Although Judge Carter has consistently denied patch forfeiture requests, the other independent consequences of being indicted as an entity are beginning to surface.
Carter orders $500k in sentencing fines
When Judge Carter denied patch, forfeiture based on 1st and 8th Amendment grounds, he also made it clear that the government had an interest in targeting the financial foundations of the Mongols Nation. Judge Carter writes, "It is beyond question that the government has a legitimate interest in attacking the economic roots of a criminal organization like the Mongol Nation."
At the May 17th sentencing hearing Judge Carter reinforced this belief.
Judge Carter ordered the Mongol Nation to pay $500k in sentencing fines, $250k per RICO count. Carter rejected the government's request for $1 million in fines. The club is required to pay monthly installments of $8,475 until the fine is paid.
With hundreds of members nationwide, attorney Stephen Stubbs has stated
the Mongol Nation is capable of paying this fine. However, the magnitude of this fine has serious implications for the majority of the motorcycle club world if this strategy is employed against other clubs. Simply put, $500k in sentencing fines would likely financially crush all but the biggest clubs.
Mongol Nation sentencing fine ignores personal guilt.
Independent of the practical ability to pay massive fines, consider that
these fines are being collected from individuals that did not commit any of the crimes the Mongol Nation was found guilty of. Many of the crimes used to establish a RICO violation go back more than a decade. Those culpable individuals have already been sentenced and many have already paid their debt to society.
The idea that restrictions and punishment are being applied to innocent
individuals; runs counter to long-established judicial principles. There is "no evidence that by merely wearing [Mongols MC] "colors," an individual is "involved in or associated with the alleged violent or criminal activity of other [Mongols MC] members. It is a fundamental principle that the government may not impose restrictions on an individual "merely because an individual belongs[s] to a group, some members of which committed acts of violence." In fact, the Supreme Court has long "disapproved governmental action . . . denying rights and privileges solely because of a citizen's association with an unpopular organization." Healy v. James, 408 U.S. 169, 185-86 (1972).
To impose restrictions on any person "who wears the insignia of [the Mongols MC], without regard to or knowledge of that individual's specific intent to engage in the alleged violent activities committed by other members, is antithetical to the basic principles enshrined in the First Amendment and repugnant to the fundamental doctrine of personal guilt that is a hallmark of American jurisprudence. see Coles v. Carlini 162 F.Supp.3d 380 (2015)
The entire Mongol Nation gets 5 years federal probation.
The NCOC believes that the most concerning element of sentencing is Carter's decision to place the entire Mongol Nation (defined as all official or full-patched members) on federal probation for a period of 5 years. Nothing like this has ever been done, which creates a great deal of ambiguity and potential for abuse. This is particularly true considering that Assistant US Attorney Steve Welk and ATF agent John Ciccone are in charge of the Mongol Nation probation and both of these men have demonstrated the desire to dissolve the Mongols Nation by any legal means.
Understanding federal probation placed on an individual is clear-cut and
defined. For example, an individual on probation is always prohibited from
possessing and carrying firearms and has no defense against search and seizure while on probation. But when those same restrictions are placed on the Mongol Nation as an entity, what about individuals that legally possess and carry weapons?
Mongol Nation Attorney Stephen Stubbs asked Judge Carter for clarification. Judge Carter explained, for example, that the firearm
restriction would not prohibit individuals that legally carry in their
individual capacities. However, if there is a nexus or an implied connection to the Mongol Nation leadership then the prohibition applies.
But even Judge Carter's explanation is ambiguous, which creates more questions than answers. Does this mean individuals wearing a Mongols patch cannot carry a weapon? Does this mean no one can possess a weapon in a Mongol Nation clubhouse or at a Mongol Nation event? If so, what about
associates and friends? Does this mean that no one can carry a weapon when around the leadership of …read more
Waco Biker Dismissals an Attempt to Avoid Millions in Lawsuits
In the interests of justice, on April 2, 2019 all remaining charges related to the May 17, 2015 Twin Peaks shootings in Waco, Texas have been dismissed by the newly elected McLennan County District Attorney Barry Johnson. These dismissals are a significant victory in the history of motorcycle club culture and the fight against motorcycle profiling and discrimination. Although this concludes the criminal chapter of Twin Peaks, the legal battles are far from over. There are currently over 100 civil rights claims pending and the official press release announcing the dismissals makes it obvious that the new DA is attempting to cover Waco's interests from a liability standpoint. There is no apology and no admission of wrongdoing related to the mass arrests. Instead, Johnson puts all the blame on former DA Abel Reyna, arguing that viable prosecutions could have occurred after the initial arrests had correct procedures been followed. The stakes are massive. In total, these lawsuits are seeking hundreds of millions of dollars in damages for a list of obvious constitutional infringements from false arrest to excessive bail.
A Brief Timeline of Events
It has been nearly 4 years (May 17, 2015) since 9 bikers were killed and 20 injured, many at the hands of law enforcement, after gunfire erupted in the parking lot of a Twin Peaks restaurant in Waco preceding a scheduled Texas Confederation of Clubs and Independents meeting intended to discuss motorcycle rights issues.
Surrounded by pre-staged law enforcement obviously expecting an issue, the violence erupted after Bandidos MC members from the Dallas area pulled into the Twin Peaks parking lot. A club called the Cossacks, not members of the Texas COC&I, were already there. A verbal altercation ensued quickly followed by pushing, shoving, and then gunshots from every direction, many coming from law enforcement.
After the violence, instead of questioning and releasing witnesses, law enforcement, at the direction of the former McLennan County District Attorney Abel Reyna, used identical generic affidavits and arrested nearly 200 people charging them with Engaging in Organized Crime solely based on their association with a motorcycle club. Every individual was also held on excessive $1-$2 million-dollar bails.
After nearly 2 years, Bandidos MC member Jake Carrizal from Dallas was the first person to be tried. The trial ended in a mistrial and near acquittal after the county spent $1.5 million dollars on its unsuccessful attempt.
The End of Reyna's Reign.
After the Carrizal trial, the McLennan County DA's Officer began to implode culminating in Reyna's election defeat by a 20% margin largely as a result of the grassroots efforts of Texas motorcyclists that vocally and visibly campaigned against Reyna.
After being defeated, Reyna's administration dismissed charges against all but 24 individuals. These 24 individuals were then charged with Riot, 3 of them also being charged with murder. The sentence for Riot can be at the level of the most serious crime committed during the riot, which in this case means all 24 charged could have potentially faced life in prison.
Johnson Takes Over.
In January 2019, Barry Johnson became the new McLennan County DA and has publicly stated that he has spent 75% of his time reviewing the Twin Peaks cases. Initially, Johnson stated that most of the 24 cases would be dismissed and a handful of the most viable cases would proceed. On April 2, 2019 the number of viable cases in Johnson's opinion is zero. It was announced that all charges against all individuals would be dismissed.
Johnson Playing CYA for Waco
Although this is a significant win for those facing charges, Johnson's statements regarding the dismissals are in no way an apology. Johnson argues that there was reasonable suspicion for the arrest of nearly 200 people and the subsequent grand jury indictments of 154 of those arrested. Johnson is attempting to argue that the arrests were constitutional, despite the generic fill-in-the-blank nature of the affidavit. Johnson further argues that the $1 million-dollar bonds were also reasonable and justified surely in answer to lawsuits charging excessive bail in violation of the 8th Amendment.
Johnson's statements regarding the dismissals puts 100% of the blame on Reyna's decision- making post the arrests. Johnson argues that Reyna should have charged individuals with crimes that could be demonstrated beyond a reasonable doubt such as aggravated assault and attempted murder, charges in which statute of limitations has now run out.
Johnson contends that the Riot charges, even if successful, would unlikely survive an appeal because it was an attempt to charge a misdemeanor as a felony. The likelihood of failure at the appellate level, in Johnson's assessment, means the only prudent decision was dismissal of all charges.
Johnson is Wrong: Arrests Were False and Bail Was Excessive.
Considering his position, Johnson's strategy is completely understandable. Johnson feels that dismissal is demanded because of the high likelihood of failure, but that no constitutional violations occurred. No one goes to jail. Waco doesn't go bankrupt for civil rights violations.
Although understandable, Johnson's position is incorrect and a clearly veiled political attempt to protect against civil liability. The MPP believes that constitutional violations certainly occurred in terms of the 4th and 8th Amendments. And so do many legal scholars.
There was absolutely no particularized and specific reasonable suspicion or probable cause justifying the arrest of nearly 200 people. Absolutely none. Generic affidavits were used to initiate the arrests. Nothing specific beyond association with a motorcycle club, which does not meet the legal threshold.
It is anyone's guess how the civil proceedings will ultimately play out. But what is certain is that we will not know for a very long time.