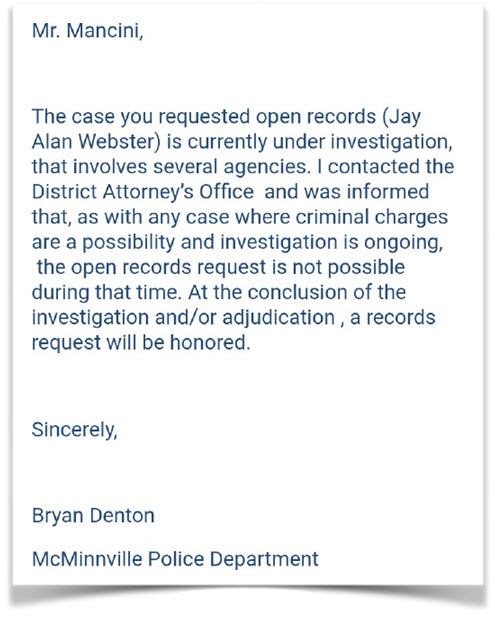 On July 7th, 2018 a former county sheriff driving an SUV hit and killed a 21-year-old motorcyclist wearing club colors in McMinnville, Tennessee. This former sheriff was cited for failure to yield, however, no criminal charges have been filed. 1
Although the investigation continues with assistance from the Tennessee Highway Patrol and District Attorney's office, information that is often released to the public during accident investigations is being withheld, such as whether drugs or alcohol are thought to be involved. The National Council of Clubs (NCOC) and the Motorcycle Profiling Project (MPP), organizations representing the legal and political interests of motorcycle clubs nationwide, are concerned that the former sheriff is being protected legally and politically by the thin blue line.
The public has a right to know whether drugs or alcohol are thought to be involved because that would inarguably constitute vehicular homicide under Tennessee law, as opposed to a devastating accident. And the public has a right to know about the short life of Jay Alan Webster, extinguished by a former sheriff currently being shielded by the laws protecting investigatory information.
The Details
As reported by NBC News Nashville on July 7th, a former Warren County Sheriff named Kenneth Taylor was cited for failure to yield at a downtown McMinnville, Tennessee intersection, killing 21-year-old motorcyclist Jay Alan Webster. Police say it's too early in the investigation to determine whether or not charges will be filed against the former sheriff. What was not reported was that Jay Alan Webster was a probate member of the Silent Creed Motorcycle Club.
Unusually, no information is being released on whether drugs or alcohol were thought to be involved. A simple Google News search reveals that law enforcement in Tennessee often release to the public whether drugs or alcohol are thought to be involved very early on in an accident investigation. For example, a FOX 17 News Nashville Story from 2016, "Two Fatal Motorcycle Accidents Saturday in middle Tennessee" reported:
"Metro Police identify 27-year-old Joshua Cannon of South Nashville as the motorcyclist killed in an accident after 9:30 p.m. on Saturday night…They say he was driving at a high rate of speed before hitting the back of a car at a light, then slid and hit another car. Drugs or alcohol are not thought to be involved." 2
Whether drugs or alcohol are a factor in an accident is information law enforcement often releases. So NCOC participant Rodney Mancini, in an attempt to obtain details of the accident, submitted a public records request and very quickly received a response.
Utilizing an investigation exemption to a public records request is common in many states, but in this case the McMinnville Police Department charged Taylor with failure to yield, which means that investigation is complete. Any accident reports written by officers present reflect the investigation that led to charging Taylor with failure to yield, which is now complete.
It is now August 7th, 2018, and the public still does not know the details. An accident is distinct from vehicular homicide, and the public still does not know whether vehicular homicide was committed by a former sheriff under the influence of drugs or alcohol in their community. The public has a right to know because criminal activity that results in death, in this case possibly committed by former law enforcement official, is irrefutably an on-going public news concern.
In addition to the public's right to know, every motorcyclist in Tennessee has a right to know. Maybe most importantly, Jay Alan Webster's family, brothers, and friends have a right to know whether their loved one was the victim of an accident or the victim of a crime. And we all have a right to know about the life that was prematurely taken from us all.
Who was Jay Alan Webster?
Though it would be impossible to do Jay Alan Webster's life justice with just words alone, it is important to know who was taken.
Based on information provided to the NCOC by the Silent Creed MC, Jay was only 21-years-old when he was killed doing one of the things he loved- riding a motorcycle. Jay's love of motorcycling eventually brought him to the Silent Creed MC, and at the time of his death he was a probate for the club.
Jay was also an accomplished welder, a skill he developed after he attempted to join the Marines at 18-years-old but was told a foot deformity would physically preclude him from serving. Welding was Jay's full time employment until he recently returned to his Grandmother's home to provide her full-time care. Jay's charitable and empathetic nature was obvious through his actions. In addition to taking care of his grandmother, Jay participated in many charities including food drives for the homeless.
Remember, Jay was only 21. His life had barely begun, yet he was dedicated to the service of other people by choice. The NCOC believes that everyone has a right to know whether Jay Alan Webster was killed as the result of a former Sheriff driving his SUV under the influence of drugs or alcohol. Once these facts are revealed, then the discussion about proper justice can begin.
Is Vehicular Homicide Proper Justice?
If former Sheriff Kenneth Taylor was under the influence of drugs or alcohol then he could be charged with Vehicular Homicide. Tennessee law is unambiguous. TN Code § 39-13-213 (2015) subdivision (a)(2) says "vehicular homicide is the reckless killing of another by the operation of an automobile, airplane, motorboat or other motor vehicle, as the proximate result of the driver's alcohol or drug intoxication."
Unfortunately, even if convicted the sentence ranges are very light and dependent on prior alcohol or drug related offenses. TN Code says, "Vehicular homicide under subdivision (a)(2) is a Class B felony." "Any sentence imposed for a first violation of subdivision (a)(2) shall include a mandatory minimum sentence of forty-eight (48) consecutive hours of incarceration." And with three or more prior alcohol-related convictions "any sentence imposed by the judge shall …read more