Motorcycle profiling is an epidemic in Texas demanding judicial and legislative relief. It appears that the level of unconstitutional absurdity has reached new heights. As captured on video, members of a motorcycle club were cited by officers in San Antonio for Disturbing the Peace for displaying their motorcycle club insignia in public, which the officers considered a public display of gang colors. The officer's actions are outrageous and blatantly unconstitutional under both the 1st and 4th Amendments to the US Constitution. All officers in San Antonio, and throughout Texas, should immediately cease and desist from any further illegal seizures and citations based on the fact that a person is riding a motorcycle or wearing motorcycle club-related insignia.
Motorcycle profiling an epidemic in Texas
This incident in San Antonio is only one of the most recent incidents documented and reported across the state. According to the 2018 National Motorcycle Profiling Survey (NMPS) Executive Summary, Texas is among the worst states for reported incidents of profiling in America. The 2018 NMPS confirms the wide-held belief among motorcyclists in Texas that incidents of profiling have dramatically proliferated since the Twin Peaks tragedy that occurred on May 17, 2015. The 2018 NMPS shows a 100% increase in the percentage of survey participants reporting incidents of profiling in Texas since 2013.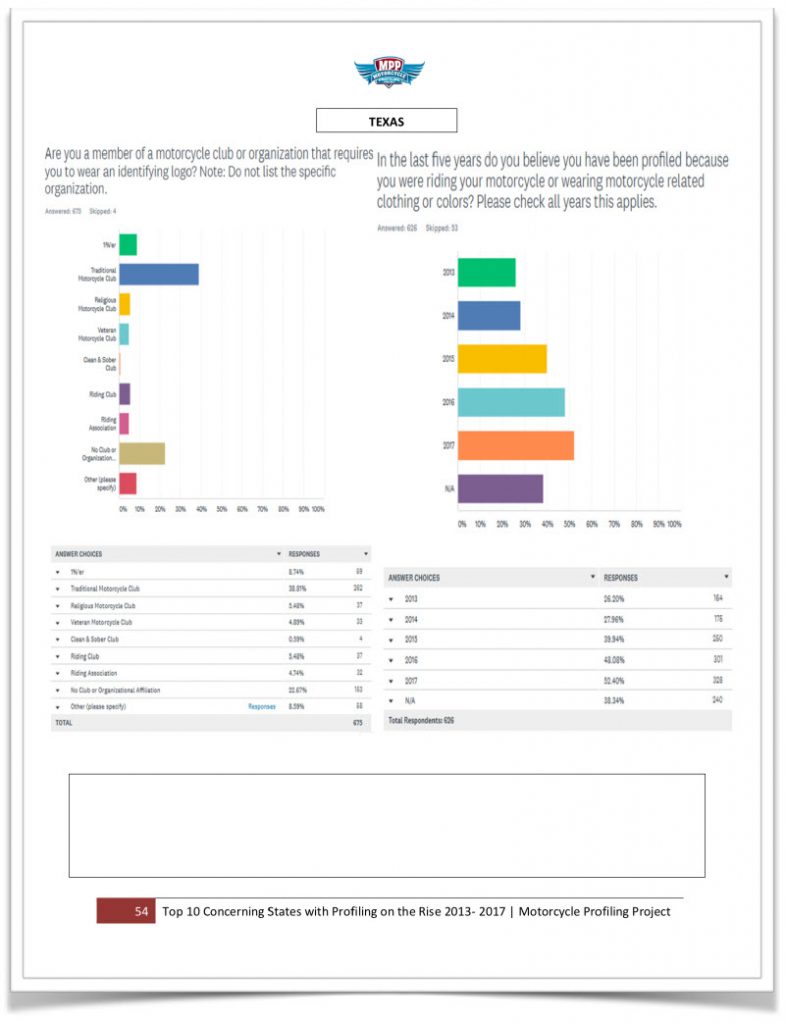 Impact on civil liberties
Being stopped and cited for wearing motorcycle club colors under the guise of disturbing the
peace would be laughable if it weren't actually happening. Wearing motorcycle club colors in
public has been recognized by federal courts as expressive conduct protected by the 1st
Amendment. Moreover, wearing motorcycle club colors is not reasonable suspicion of a traffic
infraction or criminal activity, the minimal threshold for a seizure under the 4th Amendment.
Independent of this obvious misapplication of statute, profiling incidents take many forms and
impact a wide array of civil liberties. Motorcycle club members with a legal License to Carry
have been arrested for possession of legal firearms simply for being a member of a motorcycle
club. Club members have been stopped and threatened with jail if they didn't submit to having
every tattoo on their bodies photographed against their consent. Unfortunately, the fact that
these attacks on civil liberties impact well established rights and fly in the face of well
established judicial precedent has not been a deterrent to law enforcement.
Video is critical to fighting back
The video captured in San Antonio could be a critical piece of evidence demonstrating the
essential facts required to successfully defend against the infraction and maybe file for an
injunction against the practice of stopping and/or citing a person for wearing motorcycle club
colors. The facts are all contained in a short video. The individuals in the video are being cited
for Disturbing the Peace because wearing motorcycle club colors is displaying gang colors in
public. This video makes these facts irrefutable.
Independent of judicial applications, this video and incident also help establish a tangible
pattern of profiling necessary for legislative relief. Seeing is believing and nothing has worked
better than video in the MPP's opinion.
The post San Antonio Police Say Wearing MC Colors In Public Is A Crime appeared first on Motorcycle Profiling Project.